Restaurants & Caterers – Some Great Things to Know
Posted by

The Polesky Insurance Agency

on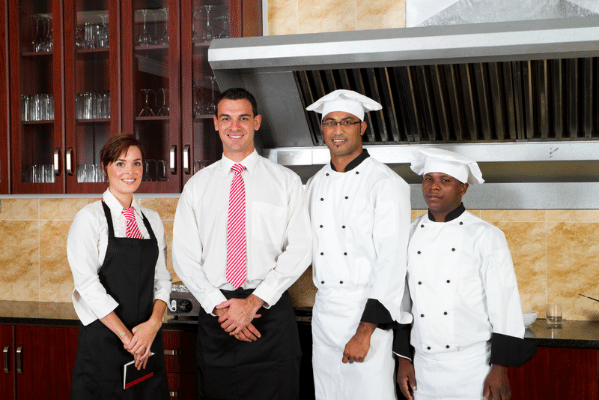 "I'm paying for a product that I hope I'll never use." It's a common complaint of any business owner purchasing insurance, and it makes sense. No one wants to go through the stress of a claim, even if it's handled efficiently by the insurance company. If you insure your restaurant properly, however, you can dramatically reduce the amount of anxiety and tension you face – both when putting the policy in force and if you have a claim.
How do you insure your restaurant properly? There are several things you can do to soften the blow by obtaining cost effective and thorough insurance coverage. Additionally, there are some specific coverages you can put in place to protect against the unique exposures that food service operators face. While most of my suggestions apply to restaurants, you can modify them to fit any style of food service operation.
There are several things you can prepare to obtain the best rates. If you have deep fat frying, make sure that you have a UL300 approved Ansul wet system, and that it's under contract for service on at least a quarterly basis. Your hoods and ducts should also be under contract for quarterly cleaning and servicing – and the filters (baffles) should be run through dish on at least a weekly basis. The cleaner that your filtration and safety systems are, the more likely it is an underwriter will be to give you great rates. Make sure that your service tags for all systems are prominently displayed! And, of course, the overall cleanliness and attractiveness of your restaurant, the more desirable it will be to the insurance company.
Other things that can help reduce your rates:
Have an employee handbook with enforced guidelines on safety and food handling protocol.
Make sure that any employee that will handle alcohol on a regular basis is either TIPS or RAMP certified.
Hold regular safety meetings, and if you can, have a certified safety committee.
Make sure that ALL areas of your location(s), inside and out, are very clean and well-maintained.
Have some basic information handy when getting quotes – square footage and seating capacity of each location, gross sales (including a break down between food & liquor), and your updated annual payroll (this MUST include tips!). The more information you have available, the faster the quoting process will be. Anticipate filling out an application for liquor liability coverage.
The coverages below are indispensable for food service operations, yet many policies don't address them appropriately. Companies like Travelers, Zurich, Nationwide, Ohio Casualty, Erie, and Penn National offer excellent policies for food service operations, but PLEASE take the time to discuss the following coverages with your agent when quoting – regardless of what company offers you quotes.
Spoilage and contamination coverages: Make certain that they're addressed by your policy – and make sure that the limits provided are adequate! I insure an upscale restaurant who had adequate coverage for the food they maintained on premises – but not nearly enough to protect their extensive wine and liquor stock! Make sure to review your limit AND your inventory when purchasing these coverages!
Utility Services coverage, direct damage and time element: This is essentially an offshoot of spoilage coverage that protects against either your product spoiling, or you losing income, due to a water or power failure. Make sure that it INCLUDES off-premises occurrences. You MUST include off-premises occurrences, and make sure that overhead lines coverage is provided! This means that if the power failure occurs due to something that happens off your premises, your spoiled product and lost income will be covered (distance/radius limitations will often apply). I had a client who had this coverage and thought he would never need it…. Until someone crashed into a telephone pole down the block and he lost power for over 24 hours!
Employment Practices Liability (EPL): Simply put, EPL provides protection in the event of a lawsuit due to sexual harassment, discrimination (age, gender, race, etc), wrongful termination, and more. It can even include vendors and customers if third party coverage is added.
Employee dishonesty will reimburse you if an employee is stealing money, product, or other goods from the business. If possible, make sure to specify Discovery Basis!
If you provide Valet services, make sure to let your agent know and get quotes for garagekeepers liability. Last, make sure to include business income and extra expense coverage on the policy – actual loss sustained is the best format, if available.
Fine print time – make sure to ALWAYS discuss coverages thoroughly with your agent. Each company will handle coverage differently. These suggestions are good starting points, but they are by no means comprehensive or always applicable. Your agent will go over in more detail the coverages above, and hopefully some additional things for you to consider. Good luck and rest easy – insurance is in place to protect you and your business!
This article is also in the New North Business Matters Magazine.
Want to learn more about insurance? Check out our Dog Blog!
Filed Under: Business Insurance, Insurance News
|
Tagged With: business insurance, insurance agent, Moon PA, restaurant insurance